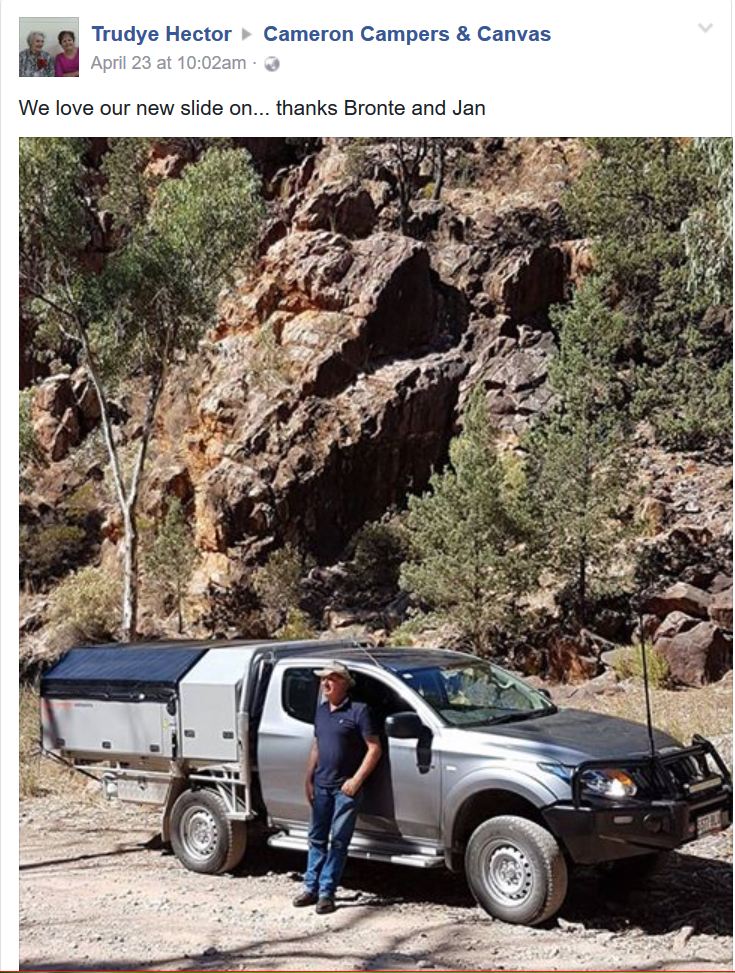 We first became aware of the Slide On camper at a 4WD / camping show in Adelaide about 3 years ago, and looked at it 2-3 times over the next couple of years. Our initial interest was sparked by the moon roof and I immediately saw the potential of feeling like you were still outside at night, part of the bush and nature, whilst still enjoying being nestled in the protection and warmth of a tent enclosure.
We finally bit the bullet and ordered one in February 2017, and actually took procession of the demonstration model we saw at the Adelaide Camping Shoe that month. We picked it up on the Wednesday just prior to the Easter break. During this time, Bronte and Jan were very helpful to us and spent considerable time helping us.
Consequently we took it home, had one day to set it up, hose it down and waterproof it, attempt to get used to it and set off for camping on Easter Friday.So our inaugural maiden voyage was camping in the lower Flinders wet of Quorn.
There were a number of features that we really appreciated and which made us feel very proud of our new purchase.
We both felt that the wide steps and comparatively low bed were better than most slide ons, and certainly made it easier and safer for getting in and out in the middle of the night.
The drop down fridge slide in the gull wing front box made viewing and access of fridge contents so much easier. No more climbing up ladders to access food.
The slide out kitchen / stove / table work area worked well and we think having a support pole on the end to take the weight off is both necessary and an idea that others might make note of. The 2 burner stove works well and we were amazed at how quickly we could boil the billy for that all important heart starting cup of coffee.
As mentioned previously, it was always the moon roof that drew us back to the Cameron time and time again. It was interesting that when I  said to Bronte that it reminded me of laying outside in a swag looking at the stars and counting satellites, he immediately jumped in and replied "That's what I feel too and that's why I built it." It made us feel somewhat special that when I rang him and just mentioned my Christian name, he immediately said "Is that Terry of Terry and Trudye that like the moon roof". He remembered us even though he would of dealt with hundreds of people. So in our inaugural Easter trip, it coincided with a full moon and clear skies and it was good to wake up with light and visibility in our beds.
The drawer fridge was good and gave easy access to those items used daily and on a my frequent basis.
Trudye felt that even though the wash basin with fold up handles was a useful addition, and more useful than a fixed set up.
We took the camper off the ute and set it up on its legs over the Easter period, which we would tend to do at any time when we were not travelling camping (different campsite very night). I was pleasantly surprised at its stability and also the ease of reversing back under it when it came time to leave.
All in all we like it, are happy with our purchase, and appreciate those features which make life a little easier than in the past. From my point of view, I go camping to be out in the bush, experience new places and sights and spend time absorbing nature and these things that make life worthwhile.
The Cameron Slide On gives me more time to do those things while knowing that life back at camp is satisfying. We appreciate the time Bronte and Jan took to make this possible.
Terry Joy & Trudye Hector