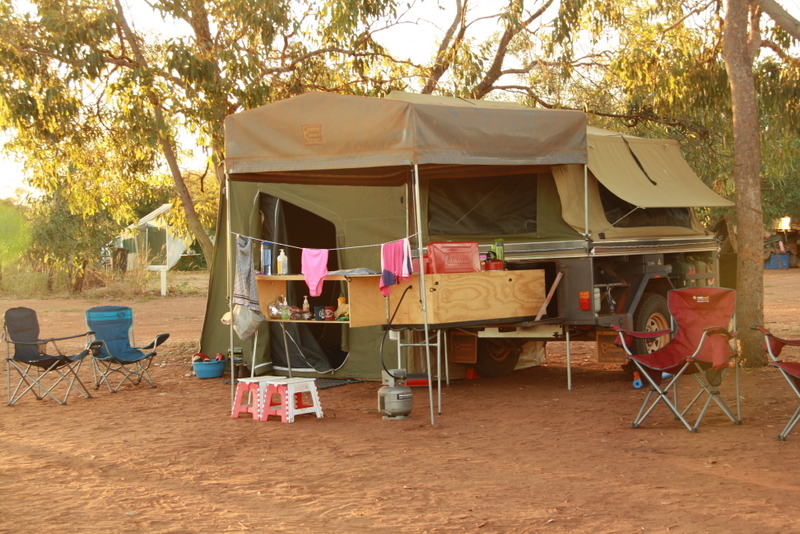 Dear Bronte and team,
We have just returned from a seven week trip through central Australia and the Kimberley and thought we would give you some feedback regarding our trailer.
Firstly, can we say that we are very impressed! We travelled from our home north of Melbourne up the Stuart Highway, across the Tanami Highway to Wolfe Creek Meteorite Crater and Purnululu National Park.  From there we stuck to the bitumen for a while and headed over to Broome, then back on the dirt up to Gynlmarung Campground on the Dampier Peninsula.  From there we had a few nights in Derby and then spent two weeks on the Gibb River Road (including a trip up the Kalumburu road to Mitchell Falls)  We came back home via the Buchannan Highway and then on to Alice via the Stuart Highway.
Aside from one flat tyre, the only maintenance the trailer required was a slight tightening of the wheel bearings after around 5000km. With so many short stops we found the concept design far easier to set up and pack down than our original Cameron trailer.  We are very pleased that we allowed ourselves to be talked in to the framed dust cover as this provided invaluable shade during the heat of the day.  With a simple line of LED strip lighting around the inner edges of the dust cover, dinner time was also made much easier (it gets dark early in WA!)  We have also added LED strip lighting inside the tent itself which makes life at night time a lot easier.
The water tank was also a valuable addition which made everything that much easier – cooking, washing and cleaning up. The clothes drawer also made set up and pack down far quicker as it saved us from having to pack bags every morning.  Just as a note to future customers, the Coles "fridge bags" that retail at the checkouts for around $2.50 fit perfectly in the drawer.  We had eight of these bags lined up in the clothes drawer, meaning the tent never had clothes strewn everywhere – once again making pack up far quicker.
Due to the design and ease of this trailer we returned from our trip feeling refreshed. Our fatigue was non existant because we were not fighting with canvas or spending hours setting or packing up.
Please find attached some pictures of the trailer at Gynlmarung Campground on the Dampier Peninsula. We also have a video of the trailer coming out of Adcock Gorge (on the Gibb River Road) if you are interested.
Once again, congratulations on an excellent product. We are very happy with our new trailer and are looking forward to its next trip (hopefully Innaminka and the Gammon Ranges!)
Sincerely,
Sarah and Troy Petschel