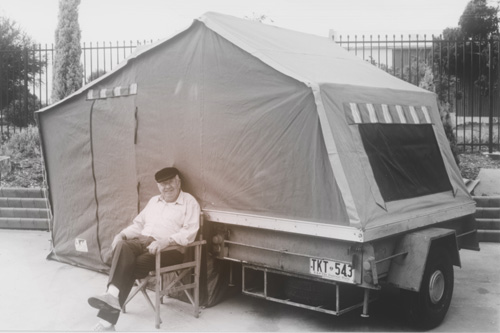 Five years after Cameron Canvas was founded in 1978, we saw the potential of having a tent on top of a trailer. Choices in those days were limited to a swag, a tent or a caravan and we believed there was an untapped market for those who sought a better but inexpensive way to go camping. Cameron Canvas was one of the first companies in Australia to develop and market the humble camper trailer and the first camper to roll off the production line was called a Cameron Convertor.
Our faith in the humble camper trailer paid off and its demand grew. Over the years, there has been many models released, the Standard Off Road, Standard On Road, Jumbo, Super, Ultimate Hard Floor, U Beaut, Gen1, Unlimited to name a few. We went on to develop an innovative patented product called the Concept tent top, designed out of a need to make the tent easier and quicker to set up and to be more accessible to the mobility impaired. The Concept tent top was massively popular; people were amazed by how easy it was. We went on to further improve the integrated poles technology and it has evolved into what we now know today as the best-selling Easy tent top.
Cameron Campers is recognized in Australia for innovation, unbeaten quality and durability. Many of our campers built over 30 years ago are still being used on the roads today! Look for the Cameron Campers & Canvas badge as you walk through a caravan park and you will be sure to find a Cameron.
The new Commando is backed up with over 40 years of manufacturing knowledge to create a happy and trouble-free camping experience so you will feel relaxed and refreshed. Why sacrifice your precious time messing around with pegs, poles and ropes? Why make your holiday miserable with a leaky tent or to arrive back at camp to discover your tent blown away?  Why put the safety of your family at risk with an inferior, untested and untried camper trailer? Why miss on a favourite destination because you are unsure of your trailer's capabilities? Aren't you and your family more important than that? We guarantee that you can rest assured with the very best, a Cameron.
We believe camping is all about having fun and that it should be effortless.
We also believe that everyone should have a camper that is made to go where you want to go.
Bronte Scholz
Director, Cameron Campers & Canvas