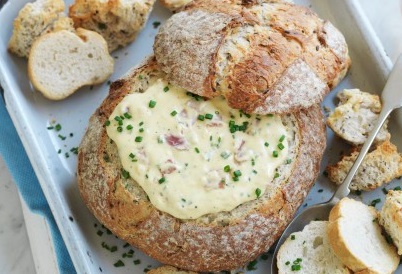 On family gatherings, Grandma will bring her cheese and bacon cob dip and everyone would be asking for more!  Quick and easy recipe perfect for around the campfire.
Ingredients
Method
Cut 4cm off top of cob loaf to form lid. Scoop bread from centre of loaf, leaving 1.5cm edge. Tear or roughly chop bread pieces.
Heat oil in a large frying pan over medium heat. Add onion and bacon. Cook, stirring, for 5 minutes or until bacon is browned and onion has softened. Remove from heat.
Add chives to bacon mixture. Stir in creamed cheese. Mix until combined. Add cream, sour cream and grated cheese. Season with salt and pepper.
Spoon mixture into loaf. Arrange lid, bread pieces in a single layer around loaf.
Sprinkle top of dip with extra chives. Serve warm.
Recipe from Taste