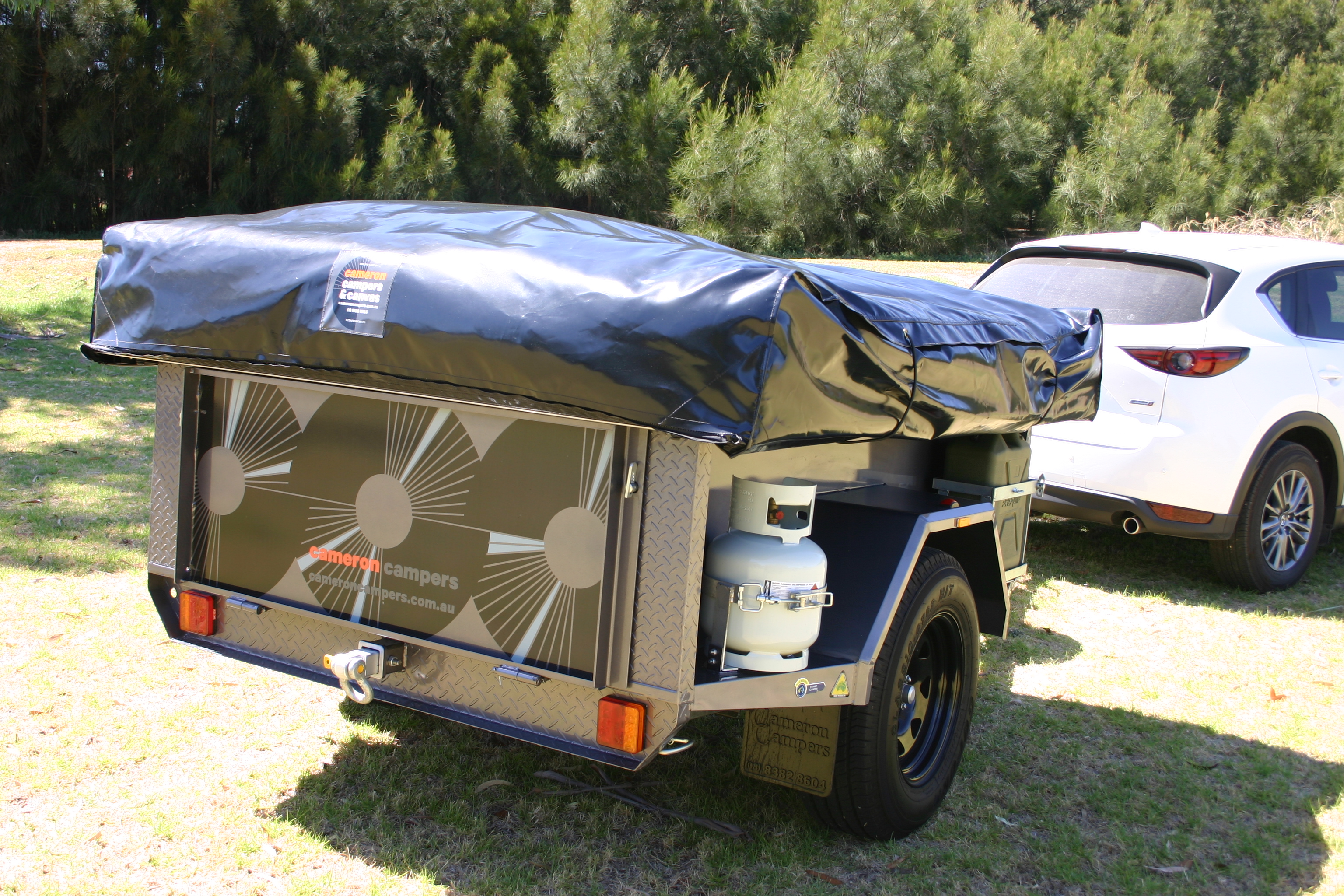 Design and Construction
Building on the ever popular practical design, the Commando is a camper trailer that is purpose built for serious trouble-free camping while containing the necessities of home. Consisting of 2mm thick zinc anneal sheet body for maximum corrosion resistance and durability.
Light, low and compact in size, the Commando can be easily towed by any SUV, all wheel drive or on road vehicle as 4WD is not necessary. It will fit in a standard single garage.
Easy to set up
The best-selling Easy Tent Top is a true one-person loading/set up tent.
Our clever patented Easy Tent relies on our integrated poles technology for strength, quick set up and easy pack up. You simply park, swing away the framed dust cover for a quick awning over the kitchen, pull out the tent, and lock into place. It's that easy!
Take a look at these other great features:
A one-person easy loading tent that you can set up and pack up without assistance
Set up in minutes, leaving you to relax and enjoy your holiday
Less weight, more floor area than a hard floor
Wheelchair friendly
No more untangling and setting up guy ropes
No more time wasted in hammering pegs
Imagine camping wherever you desire; even on impenetrable or sandy ground
No need to make adjustments on the legs so the floor meets the ground
Remarkably rigid and strong and proven to withstand windy and gusty conditions
Relocatable and free-standing framed road cover provides alternative living zones
More people? Add a unique room extension for an instant space
Authentic Australian-made proofed 508gsm heavy duty canvas for ultimate comfort
UV light block-out canvas that is water resistant and rapid drying
Roof has excellent water run-off
Tent work is double stitched & reinforced at stress points for longevity and greater sealing
Tear-resistant canvas saves you time and money in fix-ups and repairs
Unique self-cleaning floor mechanism: no need to sweep ever again!
Tent roof and walls all totally Australian Made & guaranteed to withstand Australian conditions
Endorsed by the Australian Manufacturers Camper Trailer Guild
The Awning is a design exclusive to Cameron: no pegs or guy ropes needed
Click on the video below to see how quick and easy it is to set up the Easy Tent.
Click on the video below to see how quick and easy it is to pack up the Easy Tent.
"The best thing is, it is so easy to put up and collapse. We are in our early seventies and can handle the Easy Tent with ease."
Testimonial from Peter Roodhouse.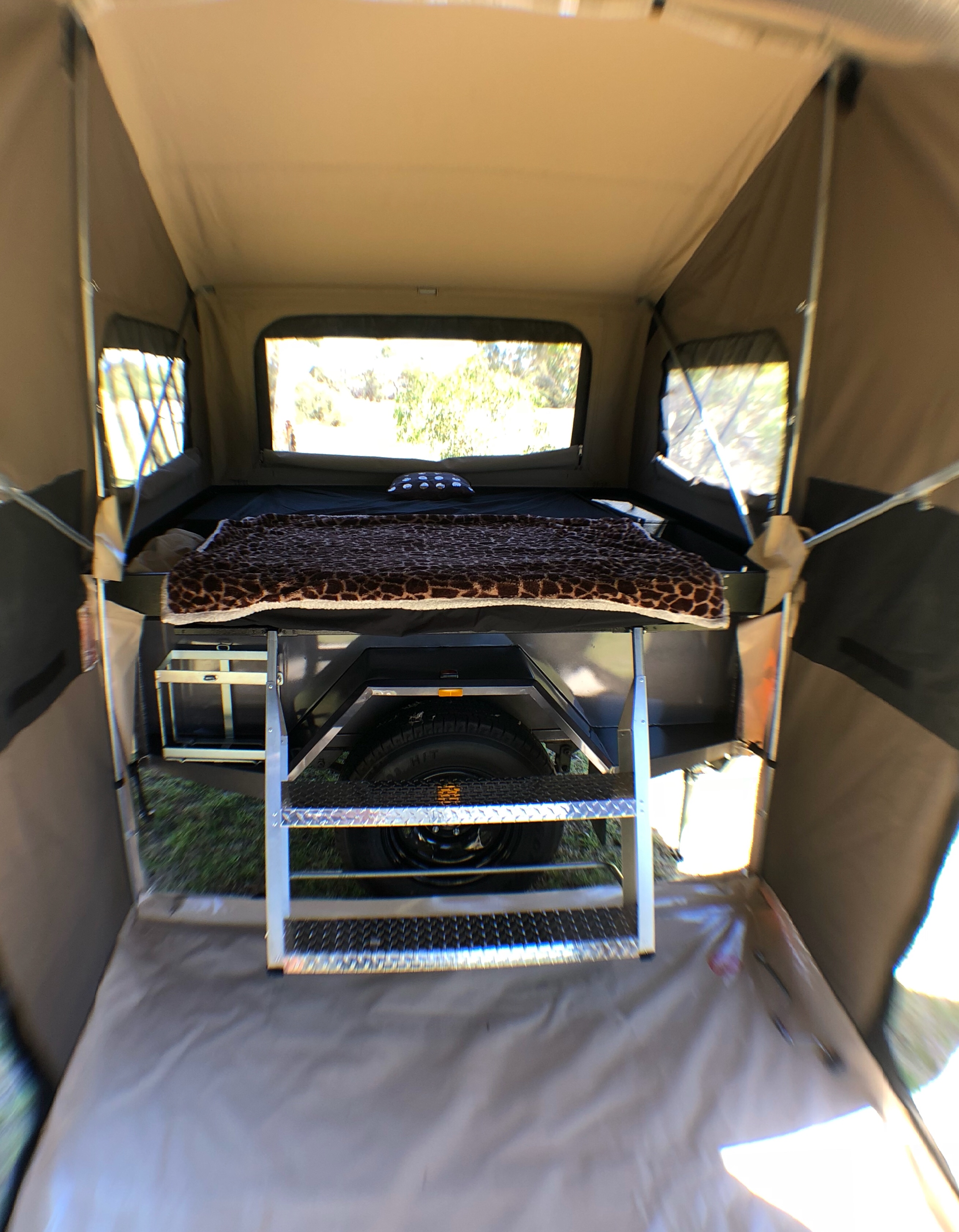 All the features you want
The Cameron Commando has all the features to allow you to escape for a fun filled holiday, leaving you to feel relaxed, rejuvenated and transformed.
No need to look for flat level ground or for an area that can take pegs
No more fumbling for guy ropes and poles
No looking for lost pegs or that elusive hammer
No need to work out how to set up the tent as there is simply no poles to connect and to install!
No more sore thumbs or frayed tempers
Simply pull out the tent and lock into place
The easy set up means you get more time to discover and explore. The innovative Easy Tent allows you to stay comfortable and dry with genuine, heavy-duty Australian made canvas.
There's also three midee mesh windows and three fly meshed doors for ultimate ventilation designed to keep you cool. UV light block-out canvas means sleeps-ins are possible while providing maximum privacy from neighbours with the framed window awning.
Access to a low queen sized bed is via a three-rung aluminium step that needs no lifting. Comes with queen sized mattress for a blissful night sleep. A queen or king sized innerspring mattress with pillow top is available as an option.
There are ample storage spaces and shelves for packing away items (perfect for clothing, iPads and phones), large lockable and easy slide drawer for clothes, shoes and other items, and it even comes with a self-cleaning floor!
Packages that will inspire you
Relax, we have thought of everything. We have a range of packages designed for everything you do.
Love to entertain? You can add a large awning or annexe to create a huge entertainment area to delight family and friends. How about an instant fully enclosed room for even more space?
Hate poles? Try our light weight frameless awning.
Cook up a storm with the large luxury slide-out kitchen with massive bench space (1.39m2) and four easy slide drawers.
You can also add an enormous storage box for putting away toys, generators, solar panels and other bulky items and comes with a fridge provision.
Imagine sleeping the way you want to, north/south or east/west and in a comfortable innerspring king size bed for a blissful night's sleep.
Fancy sleeping under the stars but don't like roughing it? With the Ultimate Ventilation package, you can gaze though the moon roof across the Southern Cross and night sky.
Want to go off road? You can upgrade to the Commando Off Road package for added strength and greater clearance, ideal for towing safely in rugged terrain.
Protect your investment with the stoneguard package. Unobtrusive, looks great and is customised to fit your own vehicle.
Take a look at the features and our range of packages and choose an option that's right for you.
Cameron Commando Features and Packages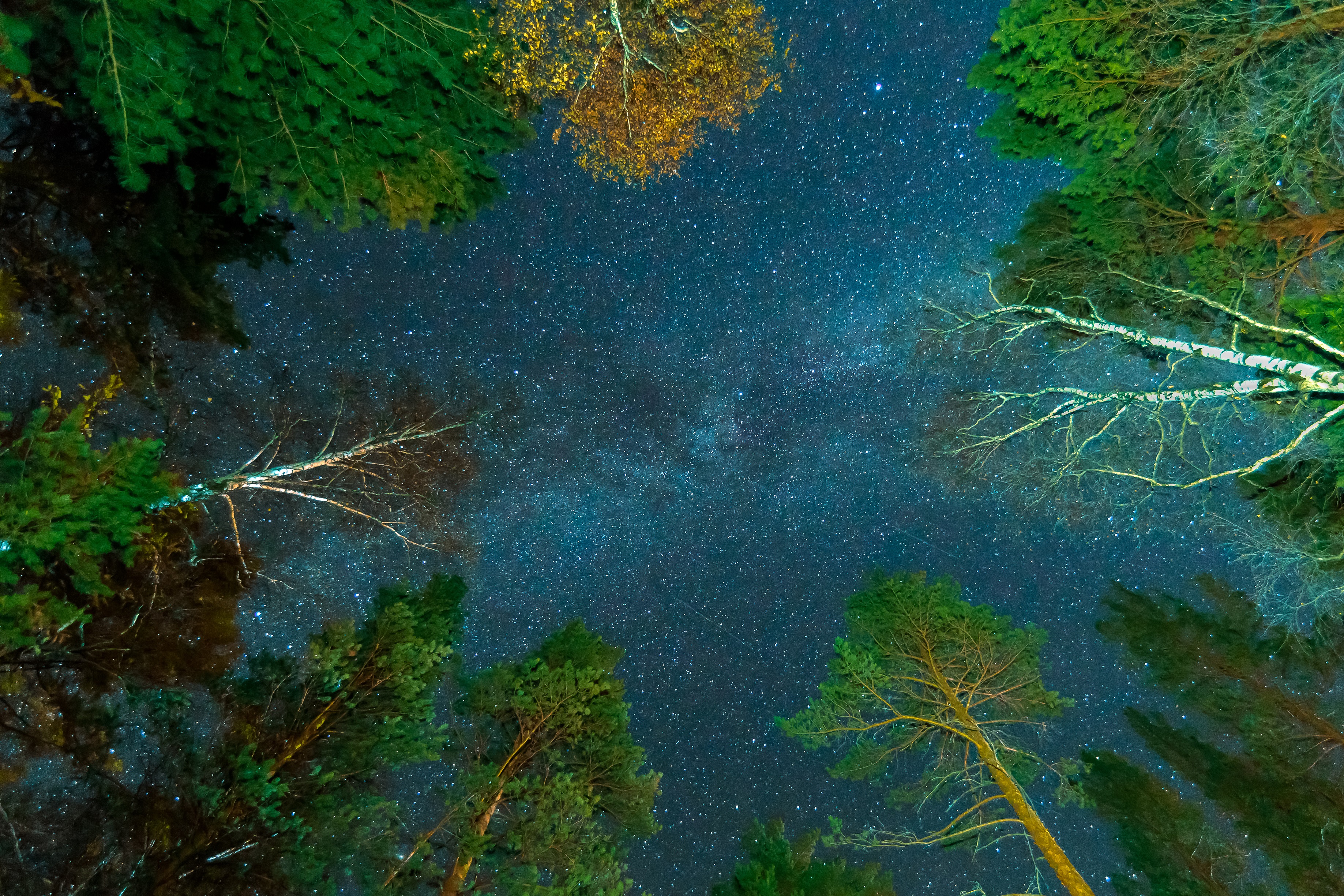 Why choose a Cameron?
"I have an early model Cameron Canvas camper, now approaching 25 years. It has been around Australia twice and across Australia twice, loaned to relatives and friends for camping trips and towed to improbable 4WD campsites. I love it for its simplicity, durability and ease of handling. Perfect for campsites around  the Victorian high country, where I live. The canvas and floor are still like new, frames and zips still function perfectly and there is no deterioration in the stitching. This is a high quality product which I have no hesitation in endorsing and it's Australian made, as a bonus."
Testimonial from Gavin Sorrell

---
There are many reasons why Cameron Campers are the best. Click on the links below to find out why.
Warranty
You can trust your Cameron Commando Camper for its build quality, reliability and safety.
Cameron Campers and Canvas' accreditation and more than 40 years of canvas and trailer manufacturing experience give you the peace of mind that you're purchasing a quality, Australian-made product designed specifically to withstand our country's extreme conditions.
We stand by our name with a five-year manufacturer's warranty. We don't just put our name on our campers; we put our heart into it because handcrafting enduring campers is our passion.
Cameron Campers and Canvas is a proud member of the Australian Manufactured Camper Trailer Guild (AMCTG), established in 2011 and only includes Australian leaders of Camper Trailer Manufacturers.
All members of the guild are subjected to engineering compliance to Australian Standards. They confirm that their complete manufacturing process is carried out in Australia using the very best materials and applies to the Chassis, Body, Suspension, Tent and Canvas. We also guarantee that the recreational vehicle you are purchasing is manufactured to comply with the Australian Standards & Safety Regulations and is designed to meet our harsh climate and conditions.
The AUSBUY endorsement establishes that our products that wholly Australian made. Buying from us means you can have confidence in the quality of our products at the best possible price, backed up with direct after sales service. It also means that you can make further improvements to your camper, it can be repaired by us, and replacement parts are readily obtainable.