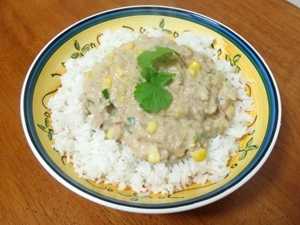 Both adults and kids love Auntie Jan's Tuna Mornay. Quick and easy to make. Perfect for those times when you set up camp late and need to feed kids in a hurry.
Feeds 4 people, simply double the recipe to feed 8.
Ingredients
One tin of tuna of brine
One onion
1 tbsp butter or oil
3/4 cup milk
Fresh or tinned corn
Dried or frozen peas
Grated cheese
1/2 cup of sour cream
1-3 tablespoons of flour
Cornflakes (optional)
Method
Dice onion and fry in pan with butter until soft.
Add the flour with the onion with extra butter and mix (don't burn).
Add in the milk, corn, peas and stir.
Add in the tinned tuna and stir over gentle heat.
Add in the sour cream and grated cheese.
Serve with cornflakes sprinkled on top (optional) with rice or pasta.
Enjoy!