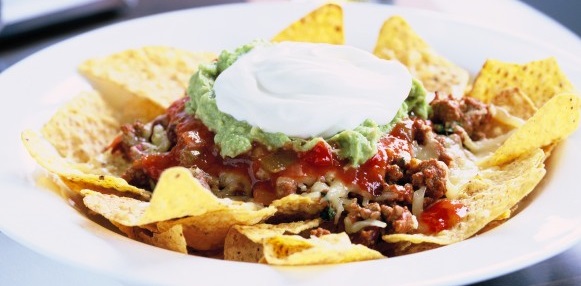 Again, another recipe that is a big hit with adults and kids.
Ingredients
Olive oil
500g beef mince
2 tablespoons tomato paste
A tin of diced tomatoes
Small tin of corn
Sugar for taste
1/4 cup water
Vegetable stock for taste
Fresh parsley or coriander
Fresh chilli (optional)
Plain corn chips
Cup of cheddar cheese
250g Sour cream
Mashed avocados mixed with 250g sour cream
1/2 cup tomato salsa
Method
Cook onion for 2 minutes, or until soft. Add mince. Cook, stirring with a spoon for 5 minutes or until browned.
Add tomato paste, tinned tomatos, water, tinned corn, pinch of sugar and lightly sprinkle with vegetable stock. Reduce heat to medium-low. Simmer for 5 minutes, or until thick. Stir through chilli, parsley or coriander.
Arrange corn chips on a plate or bowl. Top with mince. Sprinkle with cheese.  Top with salsa, avocado and sour cream. Serve with rice.